As a rule of thumb, lighting for an area should be sufficient to work, use the facilities, and move safely without straining eyes. but, ensuring an area has adequate lighting can be tricky as there aren't always clear guidelines on recommended light levels. Additionally, it can be difficult to measure how much light is needed.
Below is a helpful guide on the recommended lighting levels for common premises.

Lighting for residential settings
A well-designed lighting system will ensure a space always has the right amount of light. It affords the ability to adjust the lighting to suit different situations and avoid over-lighting or underlighting.
General lighting should provide the minimum required lighting levels. For living rooms and bedrooms, consider using dimmers and control settings to afford lighting flexibility. For homes intended for the elderly, higher lux ranges are recommended.
Well-positioned lamps and socket outlets may be required to provide light for specific tasks including reading and food preparation. High colour rendering lighting may be significant and is an aspect that needs consideration.
Recommended lighting for individual rooms
Hallways
Downlights that sit flush with the ceiling can maximize the headroom in what's often a cramped space. A lux level of 100 – 150 is recommended.
Living rooms
Downlights that sit flush with the ceiling can maximize the headroom in what's often a cramped space. A lux level of 100 – 150 is recommended.
Living rooms require a relaxed ambiance and the flexibility to adjust lighting levels. Ideally, illumination should be set between 100 – 150 lux with the flexibility to be reduced to 60 lux.
Consider wall-mounted uplighters to avoid glare while table lamps can provide the localized lighting required for specific activities.
Dining rooms
Dining rooms should have about 150 lux but since the dining table is used for a variety of other activities, it is wise to include some flexibility. 150 – 200 lux works well for dining scenarios while 400 – 500 lux is suitable for when the kids are doing their homework. High CRI lighting is a necessity here.
Kitchens
The detailed tasks carried out in a kitchen make high lux levels mandatory. 150 – 200 lux is recommended at floor levels and 400 lux for worktops – downlights can deliver focused high lux lighting.
Bedrooms
Lighting levels in the bedroom should be controllable with the ability to provide 60 – 100 lux of light up to a maximum of 150 lux. For task lighting, consider localized lighting up to 400 lux. High CRI lights are a welcome addition – for example, it can help choose clothes.

Lighting for offices
Office lighting requires more attention because the employer has a legal responsibility to meet the recommended lighting levels.
According to the 1974 Health & Safety at Work Act, the employer must ensure the health and safety of its employees. This includes the responsibility to provide the necessary lighting for work to be completed safely. The act further states that the employee's eyesight or overall health must not be in danger at any moment.
Regulation 8 of the Workplace Regulations Act 1992 dictates that the employer must make sure that:
There is natural light, so far as is reasonably practicable
Suitable and sufficient emergency lighting is provided where needed
Every workplace has suitable and sufficient lighting
Illumination levels in workplaces are generally determined by the tasks performed in the working area.
More often than not, offices are over lit due to the overwhelming use of outdated lighting systems. These lighting systems were intended for paper-based tasks, which required light levels of 500 – 750 lux. Today's work generally revolves around computer-based tasks where lighting levels of 100 – 500 lux will suffice.
The HSE breaks down lighting requirements into five main categories.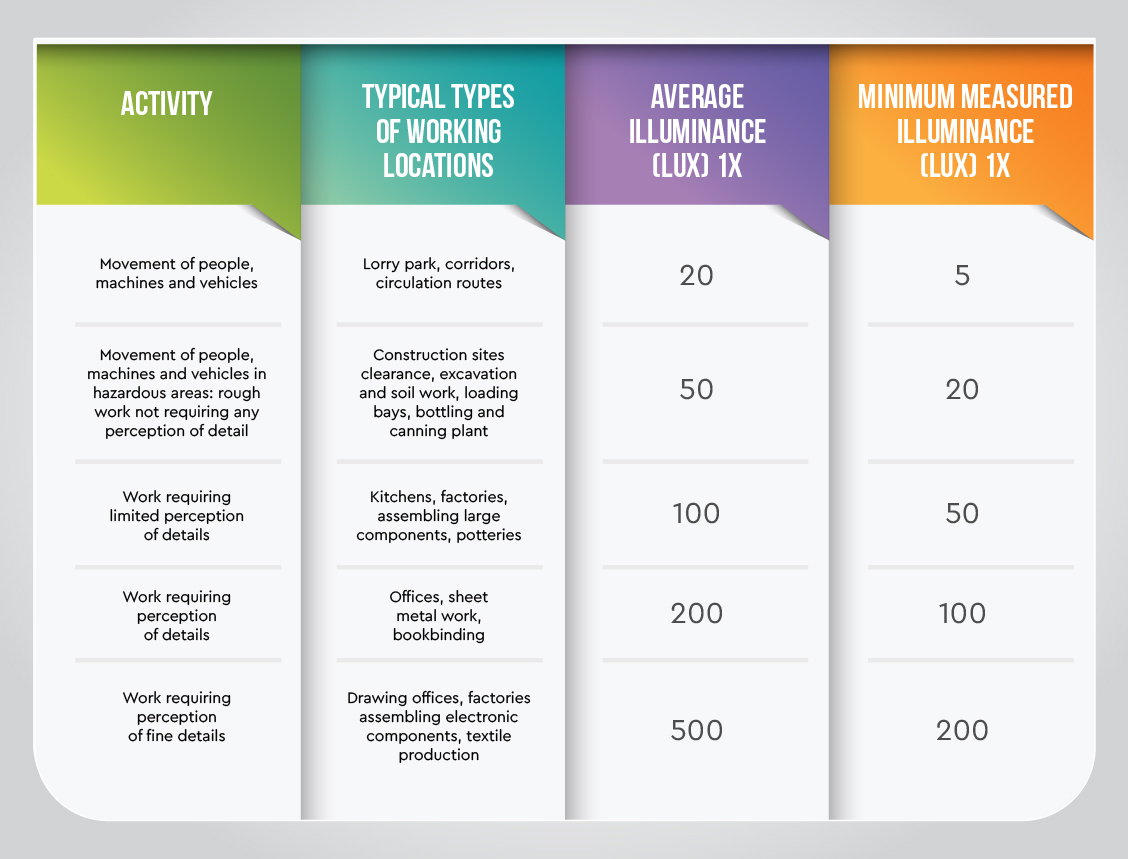 A quick summary of the HSE guidelines is listed below.
Hazards should be easily noticeable so they can be assessed
Different colours should be distinguishable for safety reasons
Lighting should not cause stroboscopic effects, glare or flickers
No veiling reflection effect
Adjacent areas should not have substantially different levels of lighting
Individual needs must be considered and met
The lighting system must not pose a health and safety risk
Safe emergency lighting
When in doubt, always refer to an expert
The above lighting levels are simply a guide and if you have any specific requirements, they will need to be carefully considered. V-TAC is able to draw upon years of experience to advise on the ideal lighting solution for any application. Do get in touch with us today to discuss how we can help you.